How To Create A Blog
1. Choose Your Blogging Platform
When starting your blog, there are several platforms to choose from (tumblr, blogger etc..).
However, one that really stands out from the pack isWordPress.
It's FREE, very user friendly, and perfect for people who've never built a blog before.
2. Choose a Domain Name (www.YourBlog.com)
Before you go any further, you need to choose a domain name.
Your domain name is important because:
It's your "first impression" to website visitors.
It affects your rankings in search engines.
It defines your brand.
With that in mind, you should put some thought into your domain name, but not toomuch.
If you come up with something you like within 5 minutes, give it a go. (You can change it later). But here are a few domain tips to get you started:
Choose brandable over generic. A brandable domain name is unique and stands out from the competition, while a generic domain name is usually stuffed with keywords and unmemorable. (For example, www.LisasRocks.com is more brandable than www.RockCollectingBlog.com.)
Keep it concise. According to research from Gaebler.com, a magazine for entrepreneurs, the top-100 websites have approximately 6 characters in their domain name.
Easy to type and pronounce. Your domain name should roll off the tips of your fingers and the tips of your tongue without any problem.
3. Sign Up With Web Host and Install WordPress
What is Web Hosting and Why Do You Need it?
Web Hosting is the service that keeps your blog accessible for everyone. It stores all the files, images and content that your blog has and displays it to the visitors.
If you don't have a web host, you won't be able to set up a blog for others to see nor will you be able to use your own domain name.
There Are Good & Bad Hosting Companies
Choosing your host is one of the most important aspect of creating your blog.
Bad web hosts cause most of the issues people have related to their blog. For example, unhelpful customer service and hidden fees are quite common…
Many cheap hosts also overuse servers to cut their costs—and that leads to your site potentially not working just because many people are visiting some other site. Only some cheaper hosts control the resources well, so that your website always works right.
Here's a simple step-by-step guide for creating a blog on Bluehost (or any other web host)
Sign up with a web hosting (I recommend Bluehost).
Choose the hosting plan (you can pick the cheapest one).
Pick a domain name for your blog.
Complete hosting registration.
Install WordPress.
Log in and write a blog post.
Altogether, this takes about 5-10 minutes if you follow the instructions (and you have chosen your domain name). So, you can start writing your first post in just a few minutes.
1. Sign up with a web hosting (I recommend Bluehost)
Go to www.Bluehost.com and click on the "Get started now" button.
2. Choose the hosting plan (you can pick the cheapest one).
Now it's time to choose your hosting package.
There are three options: Basic (recommended), Plus, and Prime.
The Basic option is perfect for beginners. The other two aren't really needed unless you're getting millions of visitors from day one. Best of all, Basic is the cheapest option so you save some cash, too.
3. Choose the domain name you want (they'll give it to you for FREE).
Next, you'll need to choose a domain name.
It doesn't have to end with .com, so you can also use different endings (such as: .net, .org, or even .co.uk) if your first choice isn't available.
If you already have a domain name (i.e., you bought it from somewhere else), use the second form on the right ("I have a domain name").
4. Complete your registration
There are three parts to this page. The first is account information.
Just enter your contact information as you would normally.
5. Install WordPress with One-Click Installation
Have you set up your hosting with Bluehost yet? Okay, good.
Now you need to install WordPress. Luckily, with the Bluehost's one-click WordPress install, it shouldn't take more than a couple of minutes.
Here is the step-by-step guide to install WordPress on Bluehost:
1) Login to your Bluehost control panel at: my.bluehost.com
2) Once you're logged in, you'll be redirected to your Control Panel. From there, choose "Install WordPress".
3) This leads you to the next page where you can choose your blog destination URL. I recommend using your root domain (www.YourNewDomain.com, not www.YourNewDomain.com/blog/), so just leave the field on the right empty.
6. Log into your new blog
At this stage, you should now have a blank WordPress site installed, along with your admin access username and password written down somewhere.
Start by typing in your new web address (www.YourNewBlog.com) to see what your WordPress blog looks like.
Next, log in to your admin panel by going to an address like: http://YourNewBlog.com/wp-admin/. (You'll use the same username and password you chose earlier during the setup.)
After logging in, you'll see the welcome page of the admin panel. It should be fairly intuitive after browsing around for a few minutes, with all of your major options helpfully located in the sidebar panel.
4. Customizing and Choosing a Blog Theme
Once you're inside WordPress dashboard, you can start customizing your blog. We'll go through everything you need to do to get your blog ready and your first post published today.
You should get familiar with the look and items of the WordPress admin menu. Here are the various admin menu items:
Dashboard – This is the page you see right after logging in.
Posts – Here you can write and publish new blog posts and view and edit old ones. We'll go through this once we've set up the blog otherwise.
Media – This is your media library with all the images, PDFs, videos, etc. you've uploaded.
Links – Many blogs don't use this at all. You can skip it for now.
Pages – Here you can write and publish new pages and view and edit old ones. We'll look at this after choosing your blog design.
Comments – Everything related to comments. You can get familiar with this when you've published your first post and readers leave the first comments.
Appearance – Here you can change what your blog looks like. We'll go through this in detail below.
Plugins – Here you can add and remove plugins, which add functionality to your blog. We'll go through this after selecting the theme.
Users – If you create your content with others, you can add them as users here, so they can edit posts. Otherwise, you can skip this for now.
Tools – Here are some additional tools you can use for publishing posts. You can skip this for now.
Settings – Here you can edit your blog's settings. We'll look at the essential settings later.
Choose a FREE Theme for Your Blog
I think choosing your new WordPress blog design is the most fun step.
The good news:
You can do it all on your own.
You can get a FREE WordPress theme that makes your blog look great.
You can change it later (just don't change it so often that your readers can't keep up).
The bad news:
You can spend a LONG time looking for the perfect theme.
A WordPress theme is responsible for how your blog looks, so it's an important decision.
In other words, a WordPress theme is like your car's frame. It changes how the car looks, but doesn't impact the features or performance too much.
Luckily for you, WordPress has thousands of great-looking themes already optimized to fit any brand, niche, or industry.
Here's what to look for in a WordPress theme:
Simplicity: Unclear design makes it difficult for readers to navigate your blog.
Responsiveness: The theme needs to adjust its layout across different screen sizes and devices. In the highly mobile world we live in, responsiveness is a necessity.
Speed: Although most themes don't slow down your blog significantly, it's still good to test it. To test a theme's speed, use the Pingdom Website Speed Test, enter the URL of the theme's demo, and see how long the page takes to load. If the load time is longer than three seconds, you might want to find a different theme (ideally, the load time is below two seconds).
Ease of customization: It should be easy to customize the theme—otherwise, you'll struggle every time you want to tweak something. Fortunately, many themes offer plenty of easy customization options.
SEO readiness: The theme shouldn't make a huge difference to search engines. But it's still better to choose a theme that's designed with SEO in mind. (Look for "SEO Optimized" or "SEO ready" in the theme description.)
Security: Themes don't generally create security issues. But it's anyway good to check some user reviews and comments—and while doing that, check if people have had security problems with the theme.
5. Adding Posts and Pages
Okay, now you should be all set up with WordPress. So, now for the fun part – it's time to create your first blog post! I'll take you through each step of this process to make it easy for you.
Go back to your WordPress admin panel (http://your_domain.com/wp-admin/) and then to "Posts » Add New"  (or "Pages » Add New) from the left sidebar.
What you'll see is a very friendly editor screen that should remind you of MS Word or Pages on Mac: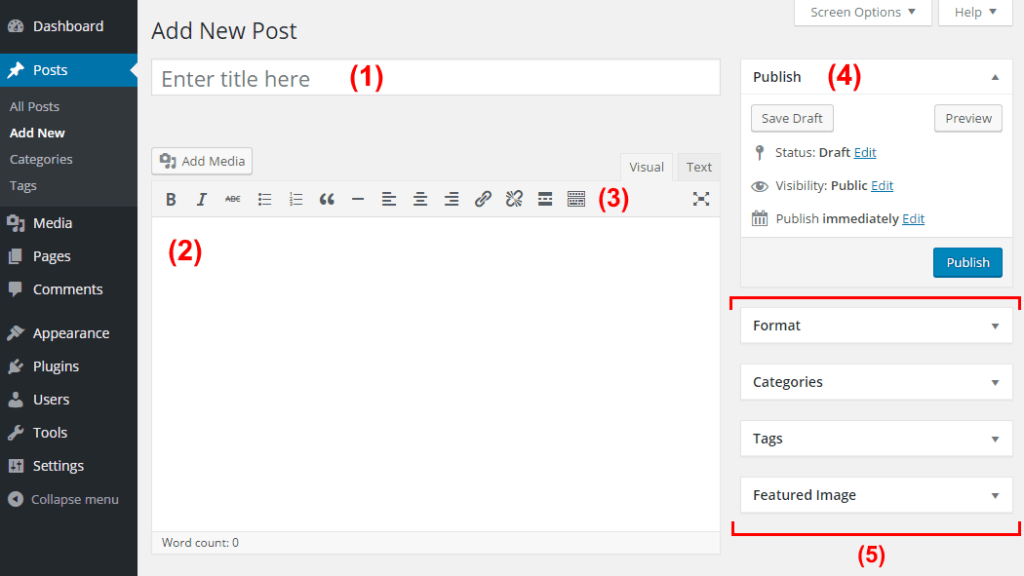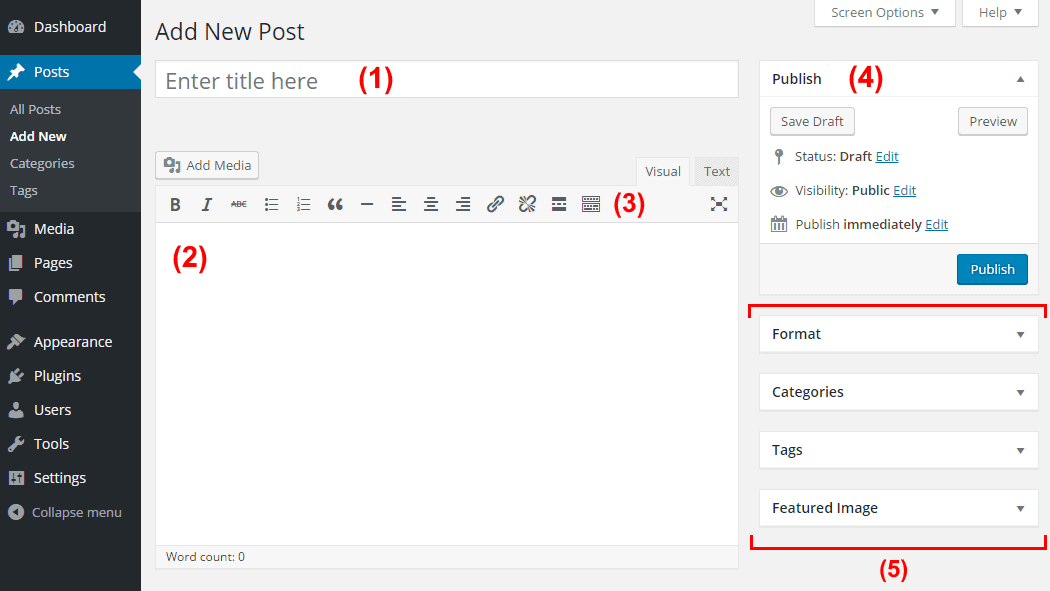 Let's break down what you're seeing here:
Title Area: This is where you write the title of your post.
Content Area: This is where the body text of your post goes. The whole area works just like text editing in Word or Pages. You can also add images and other media to your post by clicking the "Add Media" button.
Standard Editing Tools: Here are options like bold, italic, lists, paragraphs, and headlines.
Publishing Tools: This is where you get your post shown to the world; chief among them is the big blue "Publish" button. You can also set a publication date to schedule your post in the future or save the post as a draft for more editing.
Additional Fine-tuning Tools: Update your blog post and categorize it (you can learn more about WordPress categories and tags here).
Here are a few things to keep in mind:
Adding links to your posts: You should use outbound links to other websites when needed to back up your claims. For example, if you're writing an article about meditation, you can link to a study that showed that meditation helped people feel calmer. To add links to your posts, highlight the desired text, then scroll up to the blog menu.
6. Get Traffic and Monetize Your Blog
No blog is complete without compelling content.
To start, you should figure out the topic(s) that your blog will focus on. Then, come up with 10-15 ideas for new posts. Make these posts a mix of informative and entertaining.
You'll also want to err on the side of creating evergreen content (content that doesn't become dated/is always relevant) versus news/current affairs content (which becomes dated and irrelevant). Evergreen content will continue to generate traffic overtime, while other content will run its course and become irrelevant.
Promoting your blog:
If you want more blog readers as well as the opportunity to monetize your blog, you need to promote your blog.
Turning a blog into a profitable business is doable if there's enough traffic.
Traffic = customers and money.
How to make a blog with sustainable traffic? All you need is:
A content plan (i.e., what will be your blog's main topic)
A game plan for social media (i.e., which social media sites you'll use and what content you'll share)
Some basic knowledge of SEO (traffic from Google)
See Also:
How To Create An Email Address
How To Delete My Facebook Account
How To Download Vedios Facebook
How To Enter University of Ghana
How To Hard Reset Windows Phone
How To Know Your Airtel Number
How To Number Pages In Word 2010
How To Remove Right Protection
How To Verify Your Facebook Account
How To Verify Your Instagram Account
How To Write An Application Letter
How To Write Business Proposal
How To Zip A File In Windows 10